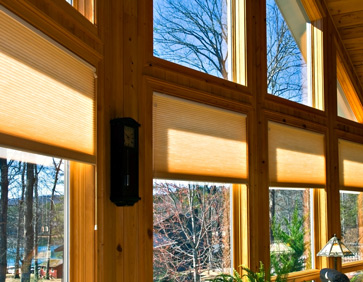 Window Treatments and Energy Efficiency
Window treatments are for more than just decoration. They're also a great way to improve the overall energy efficiency of your home. For homeowners, this means lower energy costs and more money in your wallet!
Summer Benefits:
In the summer months, the sun can beat down on your windows, heating up your home. The Hunter Douglas Duette Architella offers a beautiful honeycomb design with next generation energy efficiency. There's no need to sacrifice, as these offer both style and functionality. They look great, while also insulating your home, making sure that heat stays outside where it should be.
Winter Benefits:
During the winter months, blinds and other window coverings can reduce heat loss. This means the heat that you use to warm up your home stays inside, saving you money and improving overall home comfort.
With all of the benefits that window coverings can offer you home, what kind of window treatments are best for your home needs?
Draperies – Drapes stay cooler during the summer months that other window treatment options because their pleats tend to lose heat. During the cold weather, draperies can reduce heat loss by up to 10%. You can even hang two draperies together to add to overall room comfort and create a unique look for your space.
Shades – Window shades are a simple and effective window treatment option for homeowners looking to save energy. When mounted closely to the window glass, you can establish a sealed airspace. Quilted roller shades and roman shades offer several layers of fiber batting that helps control air infiltration, keeping warm air inside during the winter, and warm air outside during the summer months.
Blinds – Whether vertical or horizontal, blinds do an excellent job at reducing summer heat gain. The blinds can be adjusted to block and reflect direct sunlight from entering and heating your home. Unfortunately, during the winter months, blinds are less effective at controlling heat loss.
Having window treatments is essential for both style and energy efficiency. During the winter months, the heat from inside your home escapes through the windows. During the summer months, the outside heat drifts inside your home through the windows. Without energy efficient window treatments, as much as half of your homes energy (both heating and cooling) can be lost.
If you have any questions about what type of window treatment is best for your home, we encourage you to visit our showroom or give us a call to learn more about the types of window treatments that we have in stock.