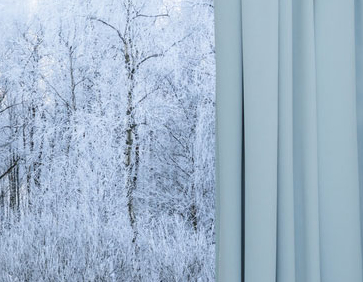 Winter Wonder (and Window) Land!
It's that time of year…time to deck the halls, hang the holiday lights, and unpack the wreaths…But wait. Did you feel that? A chilly breeze coming from the northwest corner window of your house? It feels like…A draft! Don't deal with this issue while the hustle and bustle of the holiday season is upon you – Get a jump on keeping heat transfer to a minimum, so it won't put a damper on your holiday spirits.
So the first step is to find where the heat is going! Go on a draft finding tour in your house, starting with your windows. Do they need just basic repairs (sealing with caulk or foam), or need major winterizing? Keep in mind, during all of this, that different windows have different energy efficiency. Research has shown that up to 30% of heat loss from your home occurs through uncovered windows. You may have single-pane windows; therefore, you're going to have more drafting than from a newer, high performance window. Perhaps research Thermopane glass, which can save you money and maintain your homes' value. But don't fret…you don't have to get all new windows to help the problem. Just take a look at your window fixtures.
The easy answer to your draft might just be honeycomb…the type of shade, that is! Duette Architella is really a honeycomb-within-honeycomb, and is the perfect solution for drafts or heat/cold transfer. They work double-duty, as they keep your home cool in the summer, and warm in the fall and winter. It's all in how they're made; hollow cells that are stacked on top of each other, thus, the honeycomb name. In a nutshell, those hollow areas trap the air within, and restricts temps from escaping. Honeycomb shades and blinds are also made from anti-static, dust-resistant polyester, making them super easy to clean. For even more layers, you may try adding scotch guard as an added precaution. Other ideas include Luminette Fabric Privacy Sheers, or Silhouette Window Shadings with PowerView. All our quality products, and bonus is they are made in the USA. Check out the selection of colors and styles at https://www.hunterdouglas.com/honeycomb-shades/duette-architella
If you like the look of roller or pleated blinds, pick a color and a style. These window treatments will also help with energy efficiency, as well as adding character and color to your room. There are literally hundreds of fabric choices – sheers to opaque's to textures. They also offer excellent UV protection, while still maintaining your view of the winter wonderland outside.
Don't only look at blinds as options, however, for heat saving strategies. Be sure to check in to insulated drapes, or a true blanket for the windows. When you're shopping, be sure to hone in on the styles that not only look fabulous, but also help keep you warm. There are Thermal-insulated drapes, as well as other fabrics that include wool or other warm and fuzzy materials as an option.
Remember to layer up to keep things comfortable in your home! Place your blinds behind heavy, insulated drapery. Added bonus? You can still control the light, as well as the warmth! Be sure your blinds and window treatments fit snuggly to the frame, however. It will offer maximum draft blocking. But if there's gaps, or the fit isn't quite right, you'll feel the heat transfer right out of your home!
So keep the heat where it belongs…in your home. Give us a call, and we'll brainstorm the best way to keep you and your family warm and toasty for the holiday season.